Bigger Than Roe Drag Protest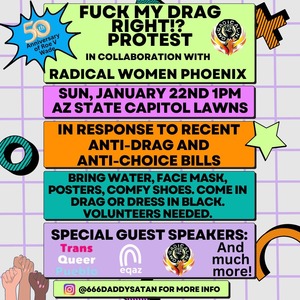 January 22, 2023 marks the 50th anniversary of the Roe decision, just six months after it's overturn. But we are not mourning, we're fighting!
For most of those 50 years, too many struggled to access abortion under Roe, as assaults like the Hyde amendment made abortion inaccessible to poor families and restrictions shut down clinics near rural areas.
And the assaults on bodily autonomy and families in Arizona go beyond abortion restrictions. From forced labor induction of pregnant prisoners by the AZ Department of Corrections, to attacks on nonbinary and transgender youth in Arizona schools, these injustices must end!
Our event is being held in collaboration and solidarity with members of the local drag community to oppose proposed anti-drag and anti-LGBTQIA legislation in the Arizona state house and to highlight the interconnection between the abortion rights and queer rights in the fight for bodily autonomy!
We are moving forward and fighting - for abortion rights, bodily autonomy, and full reproductive justice for everyone!
Starts on
Sunday, January 22, 2023 at 1:00 PM MST
Links