Women's March Cincinnati #BiggerThanRoe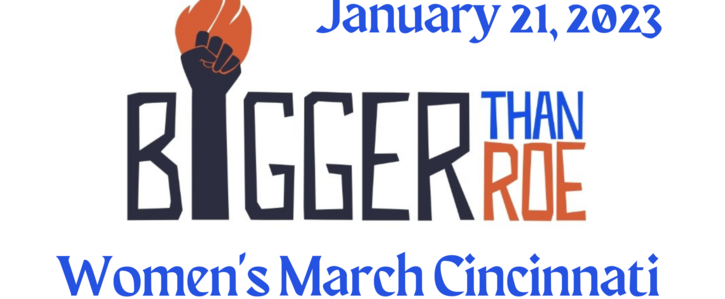 We are marching in Cincinnati in solidarity with the national Women's March in Madison and other movements across the country.
On January 21, 2023 we will march to commemorate the 50th Anniversary of Roe V Wade.
We will march to show Ohio and our communities that we will not stand for attacks on our reproductive rights, our voting rights, our human rights.
On January 22, 2023, the anniversary of Roe V Wade, as we mourn the loss of nearly 50 years of constitutional protections, we send another clear message: The midterms were just the beginning. We are not going gently. We are taking our fight to every state house and every state legislator in this country. We are putting all politicians at every level of government on notice: If you come for our families, our freedoms, or our future, we are coming for your seat. Our movement is strong. Our movement is growing.
📣 𝑾𝒆 𝒘𝒊𝒍𝒍 𝒌𝒊𝒄𝒌 𝒐𝒇𝒇 𝒇𝒆𝒔𝒕𝒊𝒗𝒊𝒕𝒊𝒆𝒔 𝒂𝒕 𝒕𝒉𝒆 𝒔𝒕𝒆𝒑𝒔 𝒐𝒇 𝑪𝒊𝒕𝒚 𝑯𝒂𝒍𝒍
📣 𝑨𝒕 1:30 𝒘𝒆 𝒘𝒊𝒍𝒍 𝒉𝒆𝒂𝒓 𝒇𝒓𝒐𝒎 𝒔𝒑𝒆𝒂𝒌𝒆𝒓𝒔 𝒂𝒏𝒅 𝒈𝒆𝒕 𝒑𝒖𝒎𝒑𝒆𝒅 𝒇𝒐𝒓 𝒎𝒂𝒓𝒄𝒉𝒊𝒏𝒈!
-Mayor Aftab Pureval
-Dr. Vanessa Enoch, Ph.D., MBA
-Elizabeth Chasteen Day (ACLU of Ohio)
-Tracy Graham
-Dr. Nicole King (Ohio Physicians for Reproductive Rights)
📣 𝑨𝒕 𝒂𝒑𝒑𝒓𝒐𝒙𝒊𝒎𝒂𝒕𝒆𝒍𝒚 2:10, 𝒘𝒆 𝒘𝒊𝒍𝒍 𝒃𝒆𝒈𝒊𝒏 𝒎𝒂𝒓𝒄𝒉𝒊𝒏𝒈 𝒅𝒐𝒘𝒏 𝒕𝒉𝒆 𝒔𝒊𝒅𝒆𝒘𝒂𝒍𝒌 𝒕𝒐 𝒇𝒐𝒖𝒏𝒕𝒂𝒊𝒏 𝒔𝒒𝒖𝒂𝒓𝒆.
A few things to keep in mind:
📣 𝑷𝒍𝒆𝒂𝒔𝒆 𝒔𝒕𝒂𝒚 𝒐𝒏 𝒕𝒉𝒆 𝒔𝒊𝒅𝒆𝒘𝒂𝒍𝒌𝒔. 𝑾𝒆 𝒘𝒊𝒍𝒍 𝒉𝒂𝒗𝒆 𝒗𝒐𝒍𝒖𝒏𝒕𝒆𝒆𝒓𝒔 𝒕𝒐 𝒌𝒆𝒆𝒑 𝒆𝒗𝒆𝒓𝒚𝒐𝒏𝒆 𝒈𝒐𝒊𝒏𝒈 𝒐𝒏 𝒕𝒉𝒆 𝒓𝒐𝒖𝒕𝒆.
📣 𝑪𝒐𝒖𝒏𝒕𝒆𝒓 𝒑𝒓𝒐𝒕𝒆𝒔𝒕𝒆𝒓𝒔 𝒂𝒓𝒆 𝒂𝒍𝒘𝒂𝒚𝒔 𝒂 𝒑𝒐𝒔𝒔𝒊𝒃𝒊𝒍𝒊𝒕𝒚. 𝑻𝒉𝒊𝒔 𝒊𝒔 𝒂 𝒑𝒆𝒂𝒄𝒆𝒇𝒖𝒍 𝒅𝒆𝒎𝒐𝒏𝒔𝒕𝒓𝒂𝒕𝒊𝒐𝒏, 𝒔𝒐 𝒑𝒍𝒆𝒂𝒔𝒆 𝒕𝒓𝒚 𝒏𝒐𝒕 𝒕𝒐 𝒆𝒏𝒈𝒂𝒈𝒆 𝒘𝒊𝒕𝒉 𝒕𝒉𝒆𝒎. 𝑰𝒇 𝒚𝒐𝒖 𝒏𝒆𝒆𝒅 𝒉𝒆𝒍𝒑, 𝒇𝒊𝒏𝒅 𝒂 𝒗𝒐𝒍𝒖𝒏𝒕𝒆𝒆𝒓. (𝑳𝒐𝒐𝒌 𝒇𝒐𝒓 𝒂 𝒑𝒊𝒏𝒌 𝒔𝒂𝒇𝒆𝒕𝒚 𝒗𝒆𝒔𝒕!)
📣 𝑻𝒉𝒆𝒓𝒆 𝒂𝒓𝒆 𝒎𝒂𝒏𝒚 𝒅𝒊𝒇𝒇𝒆𝒓𝒆𝒏𝒕 𝒑𝒂𝒓𝒌𝒊𝒏𝒈 𝒍𝒐𝒕𝒔/𝒈𝒂𝒓𝒂𝒈𝒆𝒔 𝒊𝒏 𝒕𝒉𝒆 𝒈𝒆𝒏𝒆𝒓𝒂𝒍 𝒂𝒓𝒆𝒂 𝒐𝒇 𝒄𝒊𝒕𝒚 𝒉𝒂𝒍𝒍 𝒂𝒏𝒅 𝒇𝒐𝒖𝒏𝒕𝒂𝒊𝒏 𝒔𝒒𝒖𝒂𝒓𝒆. 𝑷𝒂𝒓𝒌𝒊𝒏𝒈 𝒔𝒉𝒐𝒖𝒍𝒅 𝒃𝒆 𝒓𝒆𝒍𝒂𝒕𝒊𝒗𝒆𝒍𝒚 𝒆𝒂𝒔𝒚 𝒕𝒐 𝒇𝒊𝒏𝒅!
If anyone has any concerns, questions, or would like to volunteer please let us know. We're still in need of a couple more.
We'll see you Saturday! Dress warm and get ready to march! ✊
Join the Facebook event page for immediate updates:
https://fb.me/e/2Qg8KrEaX?mibextid=N4tvPT
Starts on
Saturday, January 21, 2023 at 1:30 PM EST
Links