January 21: Bigger Than Roe Rally at 6th & Main!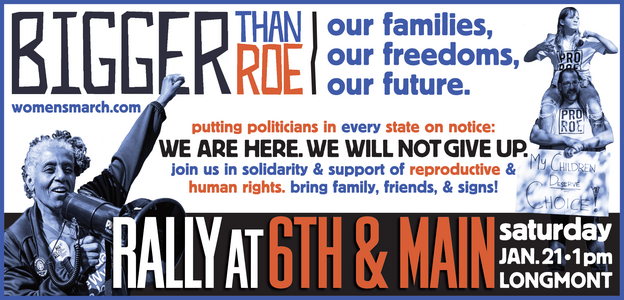 Obstruction and bogus committees put forth by extremist republicans waste precious time. Insurrection enablers in Congress are NOT serving their constituencies. The extremist faction of the Supreme Court has failed in their obligation to protect, respect, and uphold basic human rights in our country. They have failed us. But women, activists within communities of color, LGBTQ activists and their allies FIGHT ON.
This rally is an energizing reminder: WE ARE HERE.
The women's wave delivered a blow to anti-freedom politicians in the 2022 midterms across our nation. For the first time, progressives in Longmont sent Congressman Joe Neguse back to the US House, and voted for amazing state legislators who are already hard at work at our Capitol.
On January 21, 2023, the weekend of the anniversary of Roe V Wade, as we mourn the loss of nearly 50 years of constitutional protections, we send another clear message:
We will not take these democratic majorities in Longmont, Boulder County and Colorado for granted. We celebrate electeds doing the work of democracy, but will continue to demand MORE. And we are putting ALL politicians in EVERY state, at every level of government on notice: If you come for our families, our freedoms, or our future, we are coming for your seat. Our movement is strong. Our movement is growing.
So please join us in SOLIDARITY, in support of reproductive and human rights — on Saturday, January 21, at 1pm, at 6th & Main in Longmont. Bring friends & make new ones! Share local actions. Bring signs! Show Longmont and the world that our democracy — though struggling — is alive, needs to THRIVE, and is MORE than worth fighting for.
Our movement is Bigger than Roe.
Starts on
Saturday, January 21, 2023 at 1:00 PM MST
Ends on
Saturday, January 21, 2023 at 3:00 PM MST