Erie Women's March & Rally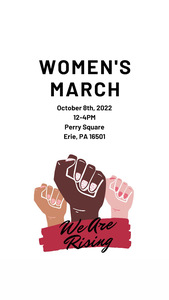 Five (5) years ago, the iconic Women's March in DC (and in cities across America, such as Erie) was held. Women everywhere were united under the clarion call to change the governmental and social climate to prevent women from losing vital rights and liberties that are daily necessities for our sisters across the nation.
Fast forward five years, the fight has intensified. An unbearable climate of men making decisions for women, our bodies, livelihoods, and futures, as if we are not human beings, has become unbearable! WE HAVE HAD ENOUGH!! On October 8th, the sisterhood of women from diverse socioeconomic and racial backgrounds will convene in downtown Erie for the Erie Women's March and Rally to send a unified message to lawmakers, naysayers, and the world that we will not stand by to allow detrimental decisions to be made for us any longer. With our votes, we will take back our power and create the policies and protections we deserve and need.
Through this march, rally, and female-owned and operated vendor marketplace, we will energize, educate, and mobilize our sisters for the November 8th election, inspire and cultivate authentic relationships, and circulate the female dollar with local female-owned and operated businesses at the vendor marketplace.

Join us as we take back our voice and our vote!
Starts on
Saturday, October 8, 2022 at 12:00 PM EDT
Ends on
Saturday, October 8, 2022 at 4:00 PM EDT
Links