Tacoma-Grit City's Rally for Reproductive Freedom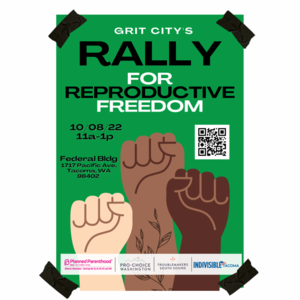 Join Grit City Feminists, Planned Parenthood, Pro-Choice Washington, Troublemakers South Sound, Indivisible Tacoma, the Rainbow Center, the YWCA, All Women's Health and many others on Saturday, October 8th for a national day of action to help us send the message: We demand our reproductive rights!
Women and people with uteruses all around the country are uniting for a fall of reckoning. We will not sit back and accept the attacks on our families, future, and our freedom.
And since October 8th marks 31 days until Election Day, we're more fired up than ever to elect more women and pro-choice candidates around the country — we're ready for the Reproductive Justice Wave!
Come stand shoulder to shoulder with your community to show your support for: abortion and birth control, bodily autonomy, Medicare for all, voting rights, affordable and accessible healthcare, justice for indigenous women, LGBTQ liberation, living wages, paid family leave, affordable housing, gender-affirming healthcare, and passage of the Women's Health Protection Act.
Invite your friends through our facebook event page: https://fb.me/e/5EKsbEVMN
Starts on
Saturday, October 8, 2022 at 11:00 AM PDT
Ends on
Saturday, October 8, 2022 at 1:00 PM PDT
Links