Mass Action to Defend Abortion Access & Defeat the Right!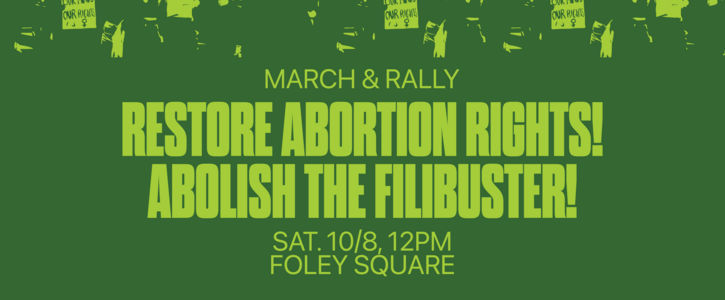 Join us on Saturday, October 8th for a national day of action to help us send the message: We will not sit back and accept the attacks on our families, future, and our lives.
The attack on abortion rights is an attack on core principles of democracy. Abortion is supported by the vast majority of people in the United States. But 6 individuals, 3 of whom were appointed by Trump (who lost the popular vote), have succeeded in taking away a right that was fought for by women decades ago. Now we are rising up and rejecting their bans. It started in Kansas and we will win in California and Michigan too this November! The time is now for mass action to defeat the right-wing attack.
The Democrats already control the House, Senate and White House. We demand:
1. End the filibuster! Codify Roe into law and restore abortion access.
2. Repeal the Hyde Amendment! This blatantly discriminatory policy blocks Medicaid funding of abortion services for poor and working class people.
3. Take Executive Action! Provide abortion access as a National Emergency in federal facilities including military clinics.
Join us.
Initial Endorsers: Breaking the Chains Magazine, The People's Forum, Latina Institute for Reproductive Justice NY, Damayan Migrant Workers Association
Starts on
Saturday, October 8, 2022 at 12:00 PM EDT
Ends on
Saturday, October 8, 2022 at 3:00 PM EDT
Links