National Mobilization on Madison - BIGGER THAN ROE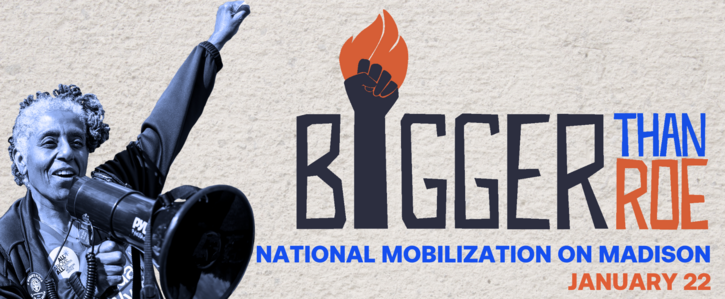 On January 22, 2023, the anniversary of Roe V Wade, as we mourn the loss of nearly 50 years of constitutional protections, we send another clear message:
We are not going gently. We are taking our fight to every state and every legislator in this country.
First up, Wisconsin. Why? Because less than a month after this march, on February 21, is the primary election for the Wisconsin Supreme Court. And on April 4th, the state will elect a new Supreme Court Justice. If a pro-choice candidate wins this seat, we could overturn the abortion ban in Wisconsin.
When we come together to fight, we win.
Join us.
🔥 VOLUNTEERING:
We can still use a few more volunteers for Sunday! If you are interested in volunteering at this historic event please see more information and sign up here. https://forms.gle/KF3sZqeJKSwr7x2x6
🔥 WHERE:
Wisconsin State Capitol – Enter through main entrance to Capitol on State Street side
For Accessibility/ADA: Enter from E. Washington Avenue side
🔥 WHEN:
Rally in the Rotunda begins at 1 PM
Are you planning to attend the march beginning at 11am hosted by Madison Abortion & Reproductive Rights Coalition for Healthcare (MARRCH)? Make sure to check out the MARRCH event page here: https://action.womensmarch.com/events/bigger-than-roe-rally-march
Email [email protected] for more info. 
🔥 HOW TO GET THERE: 
Need a lift to Madison?
Click here to get on the Rally bus: https://rally.co/bigger-than-roe-national-march-madison/
Click here to carpool with fellow marchers: https://www.groupcarpool.com/t/xo2m4c
🔥ACCESSIBILITY
Women's March is committed to making this March accessible. We are also dedicated to our goal of making all participants feel welcome, safe, heard, thought of, and cared for.
ADA entrance to the Capitol is from the E. Washington Avenue side. If you have any specific accessibility needs or questions please email [email protected].
🔥COVID SAFETY MEASURES
Women's March takes the spread of COVID-19 seriously. Our top priority is to make sure everyone feels comfortable and safe.
Masks: We highly recommend that attendees bring and wear their own mask (ideally an N95) at all times during the event.
Social distancing: We encourage social distancing at our rally and throughout the march route, we recommend that everyone remain a distance of at least 6ft apart.
More Information:
Local vaccination rates: The COVID-19 vaccines have proven to reduce COVID-19 infections, hospitalizations, and death rates — including related to the Delta variant. Increased vaccination coverage in a community reduces the risk of infections and the likelihood that health care capacity will be overwhelmed. Rates of vaccination coverage in Madison, WI can be found here. 
Levels of circulating virus: The CDC is tracking levels of community transmission at the county level (here), using both the number of new cases reported and the percent of tests that are positive. Communities are classified as having low, moderate, substantial, or high transmission, with greater transmission levels meaning higher risk of infection in those communities. There are separate data sets for hospitalizations and deaths. 
___________________
As an attendee, you will be entering a Women's March event, an area where photography, audio, and video recording may occur. By entering the event premises, you consent to photography, audio recording, and video recording, and their release, publication, exhibition, or reproduction to be used in any way by Women's March and its affiliates and representatives.
Starts on
Sunday, January 22, 2023 at 1:00 PM CST
Ends on
Sunday, January 22, 2023 at 3:00 PM CST
Links