Stand with Concord for Choice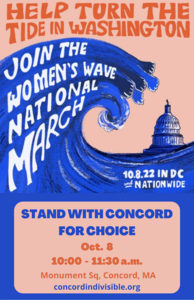 Join Concord Indivisible at Monument Square in Concord, MA, Saturday, October 8th, from 10 - 11:30 a.m. for a standout to help us send the message: Women demand our rights.
Women all around the country are uniting for a fall of reckoning. We will not sit back and accept the attacks on our families, future, and our freedom.
And since October 8th marks 30 days until Election Day, we're more fired up than ever to elect more women and pro-choice candidates around the country — we're ready for the Women's Wave!
Please join us, bring signs, and be prepared to chant!
#ROEvember
#RoeRoeRoeYourVote
Starts on
Saturday, October 8, 2022 at 10:00 AM EDT
Ends on
Saturday, October 8, 2022 at 11:30 AM EDT