Abortion is a Human Right - Yes on Prop 1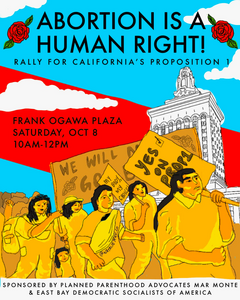 Join us on Saturday, October 8th from 10am - 12pm for a Rally to protest the Supreme Court's taking away legal abortion and to support expanding access to full reproductive care as part of the nationwide mass actions for reproductive rights!
People all around the country are uniting for a Fall of reckoning. We will not sit back and accept the attacks on our families, future, and our freedom.
We are honored to follow the "A Day Without Us" on Sept 30th, Student Walkouts on October 6th, and to kick off the Yes on Prop 1 Weekend of Action to codify the right to an abortion in the CA State Constitution! Use the energy and momentum of our rally to launch you into concrete action that same day, or the next! Register for a phonebank shift here: https://www.weareplannedparenthoodaction.org/a/vote-yes-prop-1-statewide-phonebank
Join us.
Endorsed by Planned Parenthood Advocates Mar Monte, East Bay Democratic Socialists of America & Oakland Education Association in collaboration with a growing list of groups and union and community activists.
Starts on
Saturday, October 8, 2022 at 10:00 AM PDT
Ends on
Saturday, October 8, 2022 at 12:00 PM PDT
Links