Women's Wave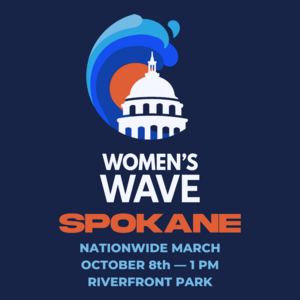 Join us on Saturday, October 8th for a national day of action to help us send the message: Women demand our rights.
Women all around the country are uniting for a fall of reckoning. We will not sit back and accept the attacks on our families, future, and our freedom.
And since October 8th marks 30 days until Election Day, we're more fired up than ever to elect more women and pro-choice candidates around the country — we're ready for the Women's Wave!
Let us come together in Spokane to show our unity for women's rights. Please bring your favorite sign or art in support.
Natasha Hill Congressional candidate is expected at 2 p.m.
Planned Parenthood will be present at the event.
Will have chalk to decorate the pavement throughout Riverfront Park with messages of women's equality. We are allowed to use non-permanent, non-toxic means, such as chalk or water-soluble paints on public sidewalks. Please only inclusive messages without profanity.
No weapons allowed.
Starts on
Saturday, October 8, 2022 at 1:00 PM PDT
Riverfront Park- snxw mene
711 North Howard Street
Spokane, WA, 99201
United States
Riverfront Park- snxw mene 711 North Howard Street Spokane, WA, 99201 Parking lot at Flour Mill building, ice age park, or street parking on Mallon Ave near Spokane Arena. Riverfront park entrance between Flour Mill Building (Clinkerdagger) and Ice Age Park. Howard Street bridge - to snxw mene aka Canada Island. May copy and paste below coordinates into map search. 47.66461° N, 117.42069° W
Get Directions