Williamsburg Women's Wave March/Rally 10/08/22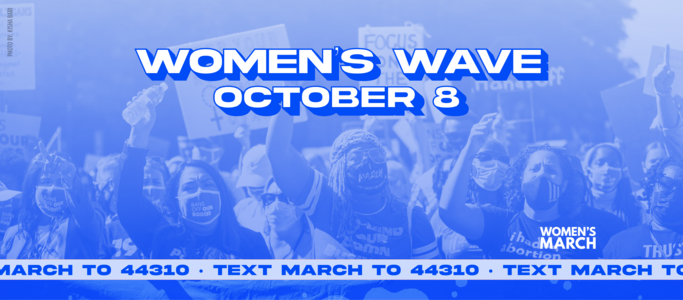 Unite with women across the country on Saturday, October 8th from 3pm – 5pm, at the Williamsburg James City Courthouse, located at 5201 Monticello Avenue, Williamsburg for a National Day of Action to help us send the message: Women demand our rights.
https://www.facebook.com/events/616438766751296
Women all around the country are uniting for a fall of reckoning. We will not sit back and accept the attacks on our families, future, and our freedom.
And since October 8th marks 30 days until Election Day, we're more fired up than ever to elect more women and pro-choice candidates around the country — we're ready for the Women's Wave!
UPDATE: Locally we can show up to support our Candidate for Congress, Herb Jones for Virginia, who will be one of our speakers, as well as Rabbi Ellen Jaffe-Gill from Virginia Beach, Delegate Mike Mullin, representing VA's 93rd District, Kati Hornung, VaRatifyERA Campaign Coordinator and Co-Founder and Executive Director of VoteEquality, and Cyanne Yeats, Chair of the Essex-Richmond County Democrats and Founder of Indivisible Essex. Planned Parenthood also will be joining us for a tabling event.
After the speeches, you can RALLY with your signs and listen to our music playlist or you can MARCH!!! The route will be:
Exit the Courthouse and head right - down to Ironbound Road. Cross at the light over to the other side of Monticello and march down to the light at Trader Joe's where you cross back over Monticello and proceed back to the Courthouse. This is a one-mile trek. You can always break off earlier and return to the Courthouse at an earlier light.
#WOMENSWAVE
As with our previous events, the same rules apply. We will not engage with counter-protesters. If an issue arises, please notify one of the event organizers, who will be wearing Williamsburg JCC Indivisible t-shirts. We will not engage in any acts of violence or violation of any applicable laws or engage in civil disobedience. All actions will be peaceful. Everyone participating in this event will be required to behave lawfully to ensure the safety of event participants and will seek to de-escalate any potential confrontation with those who disagree with our values. We will obey the orders of authorized event marshals and law enforcement authorities. Event organizers will not be responsible for any injury or damage if any were to occur during this event. We will park in the Courthouse parking lot without blocking access lanes and will remove any trash that is left.
Please remember that we are still in a pandemic and your health, and that of those around you, is especially important. We are committed to maintaining public health measures to practice safe protesting during the pandemic. Please follow all local safety guidelines at minimum, and any safety instructions from hosts that exceed local law.
Starts on
Saturday, October 8, 2022 at 3:00 PM EDT
Ends on
Saturday, October 8, 2022 at 5:00 PM EDT
Williamsburg/James City County General District Court
5201 Monticello Avenue
Williamsburg, VA, 23188
United States
Get Directions