Women's Wave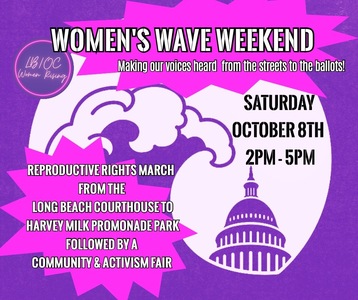 Making Our Voices Heard from the Streets to the Ballots!
Unite with women across the country for a national weekend of action to send a message: We demand our rights!
Women all around the country are uniting for a fall of reckoning. We will not sit back and accept the attacks on our families, future, and our freedom.
And since October 8th marks 30 days until Election Day, we're more fired up than ever to elect more women and pro-choice candidates around the country — we're ready for the Women's Wave!
Join us.
We will be Marching from the Courthouse to Harvey Milk Park where there will be a Community and Activism Fair. You can talk with local organization to learn what they do and how you can get involved.
Sign up here to receive updates and more details as we get closer to the Weekend of Action.
Some of our speakers will be:
Josh Lowenthal, candidate for state assembly
Councilperson Cindy Allen
Sunny Zia - LBCC Board
Carmen Flores - LB local and TikToker
Abby Thomas - Resistance Coalition
To sign up for our Sign Making Party in the Park on Friday, October 7th or the Voter Registration Drive on Sunday, October 9th, please visit https://linktr.ee/womenswaveweekend
Starts on
Saturday, October 8, 2022 at 2:00 PM PDT
Ends on
Saturday, October 8, 2022 at 5:00 PM PDT
Governor George Deukmejian Courthouse
275 Magnolia Ave.
Long Beach, CA, 90802
United States
Get Directions
Links