Our Vote. Our Power. Reproductive Rights March and Demonstration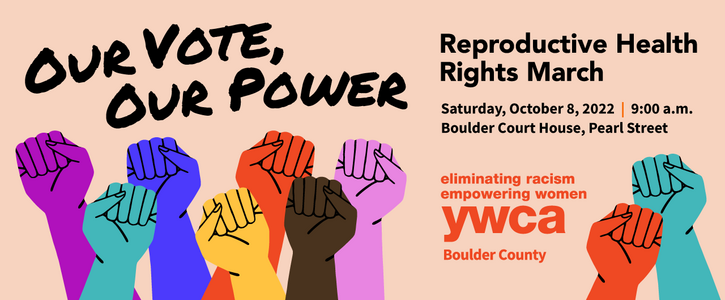 Saturday, October 8 at 9:00am
We join together in solidarity in Boulder County and across the country on October 8 to demonstrate and march for our shared beliefs in the reproductive and fundamental rights for us all.
We will raise our collective voices, mobilize and take action to demonstrate our power at the voting polls.
A strong coalition of local organizations and individual activists are hosting the event including the Women's Collaborative of Boulder County, YWCA Boulder County, League of Women Voters, Women's March community committee and other passionate volunteers taking action.
We won't go back. Not now. Not ever.
.
Starts on
Saturday, October 8, 2022 at 9:00 AM MDT
Ends on
Saturday, October 8, 2022 at 11:30 AM MDT
Links