Rally for Reproductive Rights, Freedom, and Privacy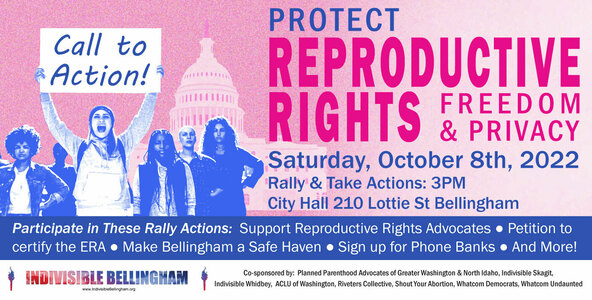 JOIN US!
On Saturday, October 8th Bellingham is rallying to demand Reproductive Rights, Freedom, Privacy and Bodily Autonomy.
Get inspired by powerful speakers and take action at our tabling dance party where you can take steps to help ensure Reproductive Rights locally, statewide, and nationally. We will have opportunities to register to vote, volunteer with local and regional organizations, and sign petitions from organizations such as Indivisible Bellingham and our co-sponsors Planned Parenthood Advocates for Greater Washington & North Idaho, ACLU of Washington, Indivisible Skagit, Indivisible Whidbey, Riveters, Shout Your Abortion, Whatcom Democrats, Whatcom Undaunted, and other local groups.
We will not sit back and accept the attacks on our families, our future, and our freedom. Bring your signs, your passion and your voices.
WE MUST STEP UP TOGETHER!
Starts on
Saturday, October 8, 2022 at 3:00 PM PDT
Ends on
Saturday, October 8, 2022 at 5:00 PM PDT
Bellingham, WA, 98225
United States
Full address will be provided upon RSVP
Links