Women's Wave - Loveland, Ohio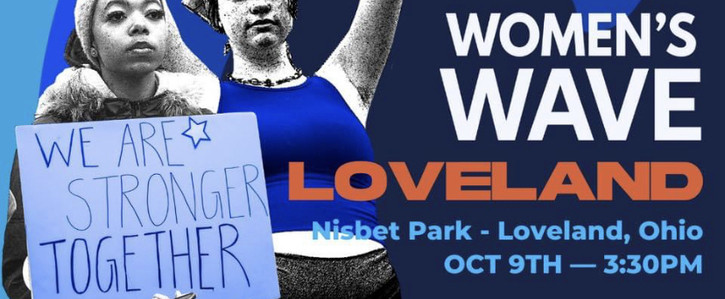 Join us on Sunday, October 9th for a day of action to help us send the message: Women demand our rights and families demand reproductive freedom.
Women all around the country are uniting for a fall of reckoning. We will not sit back and accept the attacks on our families, future, and our freedom.
This event is being held in Loveland, Ohio- the city where Rep. Jean Schmidt of Ohio resides. Jean Schmidt is the primary sponsor of HB 598: Ohio's total abortion ban (no exceptions). Women in the surrounding communities and across the state are more fired up than ever to elect more women and pro-choice candidates around the country — we're ready for the Women's Wave!
Join us for this family friendly demonstration in support of women's rights and reproductive freedom. Hear from an array of Pro-Choice speakers before demonstrating along the sidewalks of downtown Loveland.
Starts on
Sunday, October 9, 2022 at 3:30 PM EDT
Ends on
Sunday, October 9, 2022 at 6:00 PM EDT